Fans of the "Banjo-Kazooie" series will finally have an interesting product to fulfill their wish as "Yooka-Laylee" bears many similarities to its old brother, possessing a unique style. Unique graphic design and color, creating a rich world filled with intelligent challenges. This game since launch has created a big "hit" and helped revive the forgotten Platformer.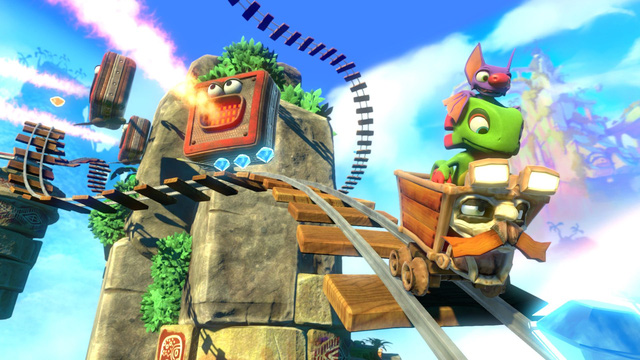 Yooka-Laylee takes you on a journey of adventure in a unique and equally exciting new open world. Our two main characters have lovely looks named Yooka and Laylee with impressive big noses.
With a 3rd person perspective, Yooka-Laylee has gameplay similar to the games Banjo-Kazooie and Chameleon Twist.. Players control two characters who work together to explore, collect items, solve puzzles, and defeat enemies. Yooka is a male gecko, and Laylee is a female bat. During their adventure, Yooka and Laylee explore the world contained within the magic books and complete challenges to collect Pagies: pages of golden books that serve as the main in-game currency. Players can use their Pages to unlock new worlds or expand already unlocked ones.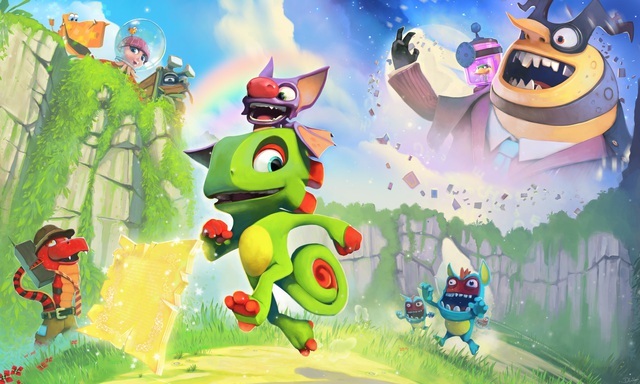 In the game, you have the task of collecting Pagies then pairing them together to create rewards, use that bonus points to unlock the next level. Countless animals stand in the way on the journey, but you will have to skillfully move them constantly like the character in the game Temple Run or Subway Surfer.
Currently, Yooka-Laylee is releasing for free on the Epic Games Store. Those interested can download it here.