An unhappy news has just been announced by the game development team Axie Infinity on Twitter. Accordingly, the game will reduce the reward (SLP token) for the PVE mechanism. Besides, the reward for PVP will be increased.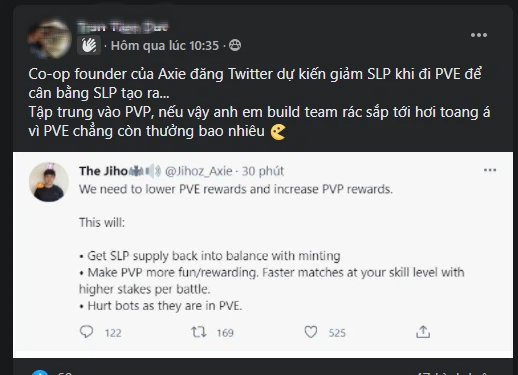 This information immediately caused the Axie Infinity Vietnam community in general and the world in particular to make waves. So far, people are used to the formula to earn SLP (in 1 day) of 100 from PVE and 50-150 from PVP. Since the bid price on the game is very high (over 1000$), a lot of people have chosen to build a cheap squad to earn at least 150 SLP from instant activities (100 PVE, 50 PVP). This part of SLP mainly comes from PVE activities and this is also the first target for players to recover capital.
As revealed, the reward from PVE can be reduced from 100 SLP / day canoe to only 50 (or even lower). Thus, with the upcoming change of Axie Infinity, gamers with weak squads will be severely affected. They are not strong enough to earn a lot of SLP from PVP. Meanwhile, SLP from PVE dropped heavily.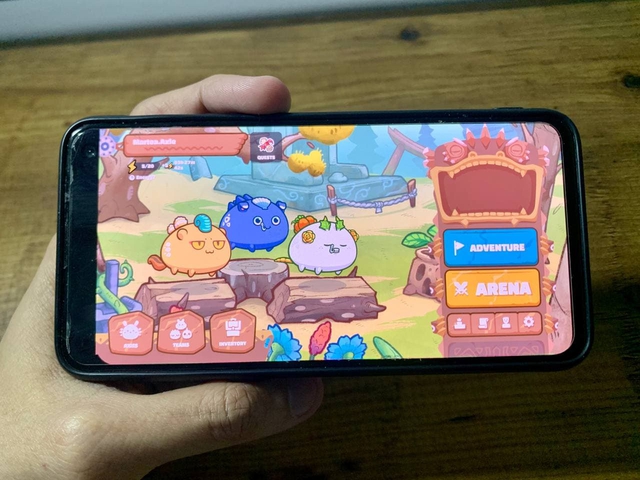 It is known that in order to recover capital and make money from the game Axie Infinity, gamers will have to focus on completing the tasks in the game to earn rewards as SLP tokens. Then will bring the SLP to the exchanges for sale. Thus, reducing SLP in PVE mode will make modest investment gamers (weak squad, unable to hit PVP) will have to suffer when losing nearly half of their income.
Not only that, the news of SLP on the trading market also made many Axie Infinity gamers stand still. According to an update from Coinmarketcap, SLP has had a 3rd consecutive week of decline. From a peak of $ 0.34 at the end of July, SLP has lost 50% of its value and is currently trading at only $ 0.17 (updated on the morning of 7/8/2021). More worryingly, it seems that the downtrend of this cryptocurrency shows no sign of stopping. And if this situation continues or worse case Bitcoin suddenly drops in price, the capitalization of SLP will be blown away very quickly. At that time, no matter where gamers try to plow, it will be difficult to offset the initial investment cost.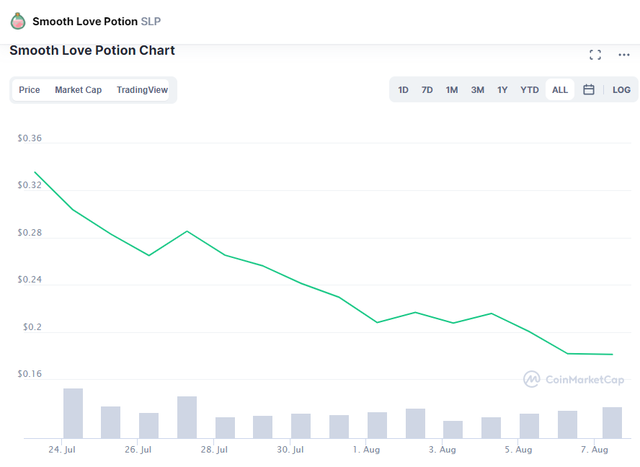 Hundreds of millions of dollars of Axie Infinity players have evaporated in just a few weeks.
Before many of the above bad developments, many Axie Infinity gamers are starting to be bewildered. The wave of sell-off has appeared when many people no longer believe in the game. A lot of squads have been put up for sale (mostly mid-range and low-level teams). Many people also accept to sell at a loss to recover capital and withdraw from the game.
At the moment, SLP is still falling rapidly and shows no sign of stopping. Not except the possibility that this cryptocurrency will create new bottoms that make investors and gamers stand still. What will the future of Axie Infinity look like? Will this game continue to grow sustainably or is it just a "multi-level game" as many people are sharing? Let's wait and see.