"Billion dollar game, Vietnam's first technology billionaire", is what the online community in the country is talking about about the NFT game Axie Infinity and the development team behind. With a market capitalization of $2.5 billion, Axie Infinity is the most expensive NFT game of all time. This is absolutely correct. However, that is still not enough for the development team behind to become Vietnam's first technology billionaires (in USD).
Going back to the time when the new Axie Infinity project was launched, according to the announcement from the development team, the AXS token (the crypto currency used in the game) will be distributed into 7 parts, including:
20% is allocated as a fund to attract new players
29% allocated as staking rewards
8% is allocated as ecosystem development fund quỹ
21% is allocated to key members of the project
7% is allocated to advisors
11% sold to investors through Public Sale
4% is sold to investors through a Private Sale round
Looking at the numbers above, we see that only 21% of AXS tokens are allocated to key members of the project. These members include a number of people, from the founder to the first key positions. On the white paper of the project, the founder and CEO (executive director) of Axie Infinity is Nguyen Thanh Trung, born in 1992. Besides Trung, there is another young Vietnamese named Tu Doan, who takes on the role of director. Art director and game designer. The two positions of COO (director in charge of operations) and CTO (chief technology officer) of Axie Infinity are both foreigners.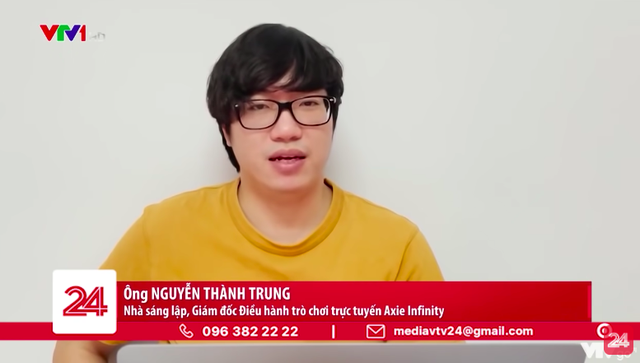 As can be seen, this key group of members only holds 21% of the amount of AXS in circulation (equivalent to about 12.79 million tokens). According to current estimates, this amount of AXS is worth more than 500 million USD. Thus, even if founder Nguyen Thanh Trung holds most of the other 12.79 million AXS tokens, he is not eligible to become a USD billionaire.
Although it has not been possible to reach the level of a technology billionaire, what Nguyen Thanh Trung and his team have achieved is also very successful. It can be said that, so far, no game product of Vietnam has made such a miraculous progress. A notable detail is that the maximum total supply of Axie Infinity is up to 270 million tokens. Thus, if the AXS price continues to grow with an upward trend over time and more tokens appear, the Axie Infinity development team's dream of a tech billionaire in the future is grounded.
It is known that Axie Infinity is an NFT game running on the blockchain platform. The game is inspired by the game CryptoKitties. Basically, Axie Infinity is a virtual farming game where players can fight, collect, raise and build a kingdom on land for their pets.
In May 2021, Sky Mavis and the Axie Infinity project successfully raised capital in the Series A round of the US version of Shark Tank. Billionaire Mark Cuban and many other investors poured into Sky Mavis $ 7.5 million.
Currently the number of AXS in circulation is about 60.9 million tokens. The maximum total supply of AXS 270 million tokens. According to the update on the morning of July 27, the price of one AXS coin is $ 38.1. Market capitalization reached $2.275 billion.